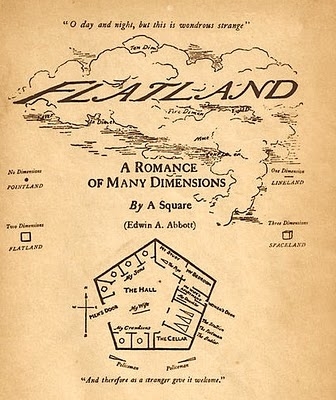 P
I
X
E
L
L
A
N
D
:
A ROMANCE OF MANY DIMENSIONS

I call our world Pixeland, not because we call it so, but to make its nature clearer to you, my happy readers, who are privileged to live in space.
Imagine a vast sheet of paper on which straight lines, triangles, squares, pentagons, hexagons, and other figures, instead of remaining fixed in their places, move freely about, on or in the surface, but without the power of rising above or sinking below it, very much like shadows - only hard and with luminous edges - and you will then have a pretty correct notion of my country.
Alas, a few years ago, I should have said "my universe," but now my mind has been opened to higher views of things.

In the night I had a dream. I saw before me a vast multitude of small straight lines interspersed with other beings still smaller and of the nature of lustrous points.
All moving to and fro in one and the same straight line, and, as nearly as I could judge, with the same velocity.
A noise of confused, multitudinous chirping or twittering issued from them at intervals as long as they were moving; but sometimes they ceased from motion, and then all was silence.